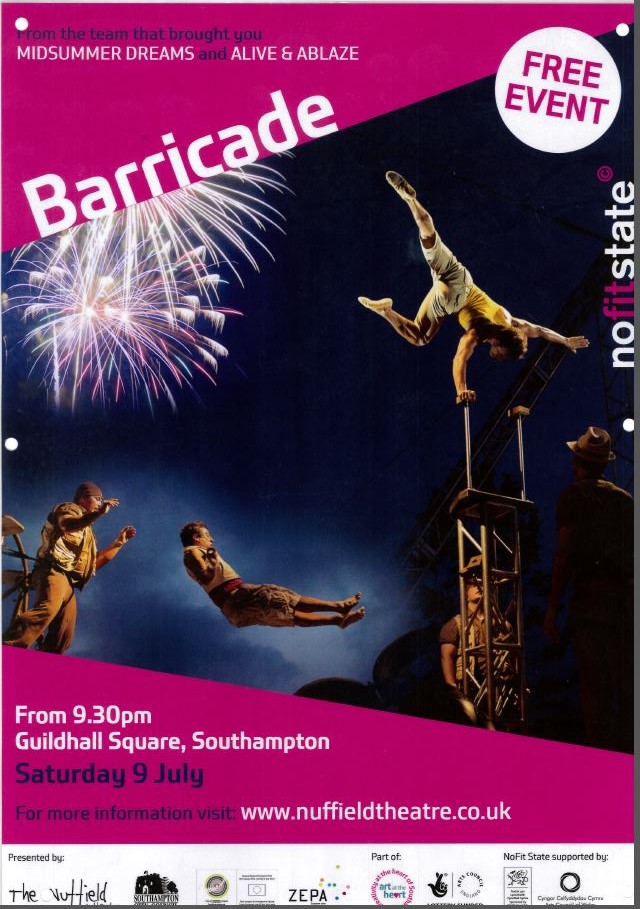 Barricade 2011
Barricade
In March 2010, Ali Williams, Orit Azaz and Tom Rack pitched the idea of a new outdoor creation to the partners of the ZEPA network. ZEPA ( Zones European Partners Artistic) was a network of 5 UK and 4 French based partners funded by Interreg. Nofitstate won the commission and during the rest of the year, spent time developing the concept for a new show Barricade, they travelled back and forward to France to meet the partners, visit their incredible creation spaces and to plan the tour. At the end of 2010 they spent time putting together the creative team which included Dan Potra ( set design), Tarn Aitkin ( structures design), Barnz Munn ( rigging design), Sean Donohoe ( Costume design), Peter Reynolds ( Composer) and Mish Weaver (Circus Choreographer). The budget of approx. ½ million Euros needed to cover creation and touring to the nine partners on two sides of the channel
2011 – We did some initial R&D in January in Cardiff for two weeks, followed by an intensive design and narrative development period. In May we headed to France. The creation took place in Atelier 231 in Sotteville Les Rouen where we spent two weeks building the set and adapting the vehicles and then two weeks working with the cast to develop the framework for the performance. We then had one more week of rehearsal in Bethune where we also worked with the local community and members of the circus school from Amiens to integrate them into the premiere performance as part of Z'Arts Up Festival 2011.
The Wind is Rising
A maelstrom of spectacular circus imagery, breathtaking aerial and acrobatic skills, alarming pyrotechnics and inspiring live music in celebration of the mighty human effort needed to overcome the walls, barriers and obstacles we find, or place, in our path.
Two trucks block the circus field. They disgorge their contents of wire and tyres and assemble a structure that divides the square in two, an obstacle to normal paths and daily routines.
Suddenly, the wind is rising. A wind of change. People are building a barricade to defend themselves from the storm. They hurry to bring tyres, ladders and other objects in impossible volumes. The barricade they build, a spectacular aerial playground, sets the scene for a maelstrom of breathtaking circus images, powerful stories of separation and unity, dangerous acts of creation and destruction. A tightrope walker holds his megaphone aloft, a handful of acrobats climb never ending ladders, aerialists swing from impossible heights... in a turbulent world of tyres and ladders, smoke without fire, devilish newspapers and smashing doors, their stories of personal and universal frustration unfold as spectacular, alarming, absurd and moving circus images. Barricade explores the obstacles, barriers and defences that prevent us from touching each others' lives and obstruct us from achieving our goals. Through aerial and acrobatic circus spectacle, live music, pyrotechnics and Nofit State's signature theatrical chaos, Barricade celebrates the mighty human effort required to overcome the walls that we find or place in our path.
Produced By NoFit State – Ali Williams
Director – Orit Azaz
Designer – Dan Potra
Circus Choreographer- Mish Weaver
Music Director- Peter Reynolds
Costume Design – Sean Donohoe
Dramaturgy consultant- Nick Walker
Design realisation and Set Construction- Tarn Aitkin/Iolo Lavender/Tony Jones/Matt Davies
Lighting design-Leif LePage
Rigging design- Barnz Munn,




























Tour Dates
Dates
City
Venue
Festival

17/06/2011

-

18/06/2011

Amiens
ZEPA partner
-

24/06/2011

-

26/06/2011

Glastonbury
-
Glastonbury Festival

02/07/2011

-

04/07/2011

Winchester
ZEPA partner
-

09/07/2011

-

10/07/2011

Southampton
ZEPA partner
-

02/09/2011

-

04/09/2011

Barrow
-
Mintfest

17/09/2011

-

18/09/2011

Gt Yarmouth
ZEPA partner
Out There

09/05/2011

-

15/05/2011

Bethune
ZEPA partner
-