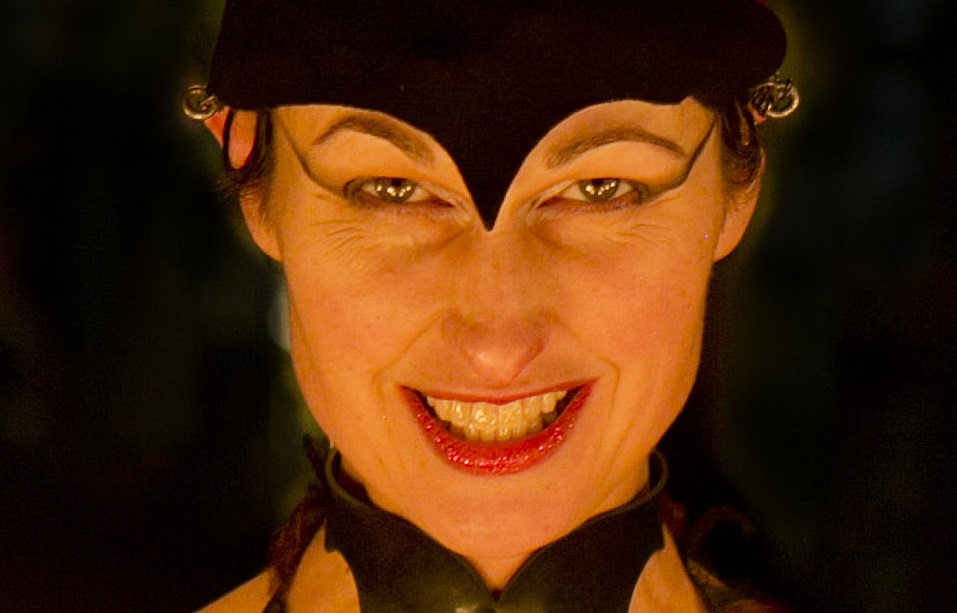 " 'I'm performing in a stadium front of 20,000 people tomorrow and it never would have happened if it wasn't for you!' "
Biography
Rather than being a super-fit sporty type, I started life as an artist/maker. This has had its bonuses as I'm sure my homemade fire crown and other props have helped bring fun-time opportunities. I've been lucky enough to perform fire alongside top quality performers not only circus but musicians, dancers and Shakespearian actors; for TV and internationally. That's as well as the usual array of less glamorous gigs complete with toilet changing-rooms, muddy fields and heckling teenagers, oh yes.
My first show was the community ImMortal. It ran for 5 nights and it was where I popped my fire-performing cherry. Like many a first occasion it was clumsy, embarrassing and so bad that I vowed to myself I would never again do a performance like that. From now on my fire would be sexy!
A few years later we put on the Splott on the Landscape shows and in 2009 I was chuffed to bits to be the poster girl, briefly claiming Ali William's title of 'Daring, Sexy & Wildly Entertaining!'
My introduction to circus happened quite randomly in 2001 when a friend bubbled over telling me about her previous evening at Splott State Circus skills-share where she stood on the shoulders of some guy (who turned out to be Mark Robson) like she was Jesus looking out over Rio. 'You've gotta come next week!' she said.
I was an unlikely candidate but somehow by the following year I was unicycling daily, dog in tow and dropping a staff weekly at my Tuesday evening addiction.
It was the fire that captivated me. And to my own surprise, I started getting bookings. Never convinced it wasn't some short lived bonus phase... 12 years on after several glasses of rice wine, I sentimentally texted Ali from a hotel room in China, 'I'm performing in a stadium front of 20,000 people tomorrow and it never would have happened if it wasn't for you!'