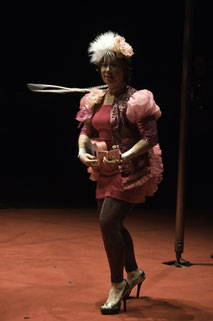 Biography
Born in south Italy, Marcella Manzilli is an accomplished international clown and circus performer. When she realised that making people laugh was her biggest joy she decided to make it her work and has not stopped since.
She studied at the Circus School Carampa in Madrid and graduated from the Circus Space in London, where she specialised in flying trapeze.She also attended numerous clown workshops with the prestigious teachers Philippe Gaulier, Firenza Guidi, Mick Barnfather and Angela de Catsro.
She has worked for NoFit State Circus, Company F/Z, Bureau of Silly Ideas, Helsinki Winter Circus and Cirque Valo. Over the past seven years she has performed her solo comedy static trapeze act 'Miss Glamour' internationally at cabarets and festivals, including Festival Mondial du Cirque de Demain in Paris. She has been touring with NoFit State Circus for four years performing flying trapeze and clowning. Currently she is part of a trio cradle comedy act with Petri Ekqvist and Tanwen Watson.